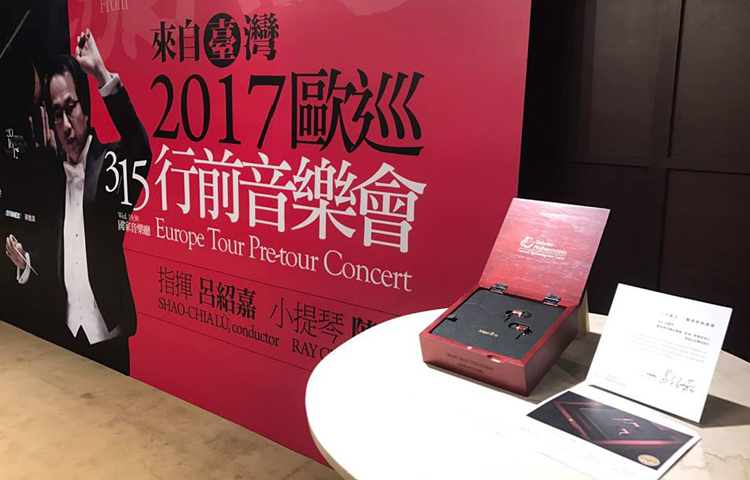 This year is Taiwan Philharmonic's 30th Anniversary. To celebrate this event there was arranged a concert tour across Berlin, Vienna, Linz, Warsaw, Lyon and Brussels.
Chord & Major Classical Tonal Earphone is proudly to be chosen as VIP customer's gift.
Chord & Major team visited Warsaw for a EU concert tour along with Taiwan Philharmonic on the 20th - 22nd of March.
---
Gordon Chin - Upsurge (3rd movement from Symphony no. 3 Taiwan) [9']
Antonín Dvořák - Symphony no. 9 in E minor op. 95 From The New World [40']
---
Antonín Dvořák was invited to the United States to take up the post of director (in 1892-1895) of the newly founded National Conservatory of Music in New York. He was fascinated with the indigenous Indian music and Afro-American spirituals – both quite unknown in Europe at that time. In his E Minor Symphony (commissioned by New York Philharmonic, premiered in 1893) he did not directly quote these influences, but in a commentary he admitted to being inspired by Indian and Afro-American rhythms and modal turns. He also pointed to literary influences, such as those of Longfellow's famous poem The Song of Hiawatha. This extremely original and impressive work immediately became part of the symphonic canon and remains one of Dvořák's most famous and frequently performed compositions.
"I composed the main theme of the 1st movement in Paris, the theme of the 2nd movement – in Voronezh, completed the orchestration in Baku and premiered the work [in 1935] in Madrid," joked Prokofiev about his Violin Concerto No. 2. Allusions to the place of the premiere are evident in the Spanish colours of the finale. This charming and accessible, formally conventional work gives the soloist plenty of opportunities for a display of abilities, but also – for a presentation of the beauty of the melodious, tuneful themes.
Taiwanese Gordon Chin returned to his native island after studies at the prestigious Eastman School of Music in the USA. He works, among others, at the National Taiwan Normal University, where he enjoys the status of one of the most acclaimed Chinese composers of his generation. His Symphony No. 3 'Taiwan' is a homage to Taiwan and its stormy history, an expression of the composer's love for his homeland.
We hope you had a chance to enjoy the concert!