Brand description
A PROUD HERITAGE
In 2013, C SEED changed the course of TV history, introducing the company´s first product and redefining "grand entrance" forever: The ground opens. A monumental back column rises up to first-floor height. On its top, an LED screen unfolds to a stunning, five-meter wide, dazzlingly bright display. At long last, lounging in the open air while enjoying the very best high-end sound and vision under the sun or the stars is available at the push of one single button.
Enter C SEED 201: The world´s first weatherproof outdoor LED TV display is the literally groundbreaking success of a collaboration between C SEED and Porsche Design. They started out with the explicit intent to introduce an all-new luxury product category and wound up creating an award-winning style icon with impact across generations.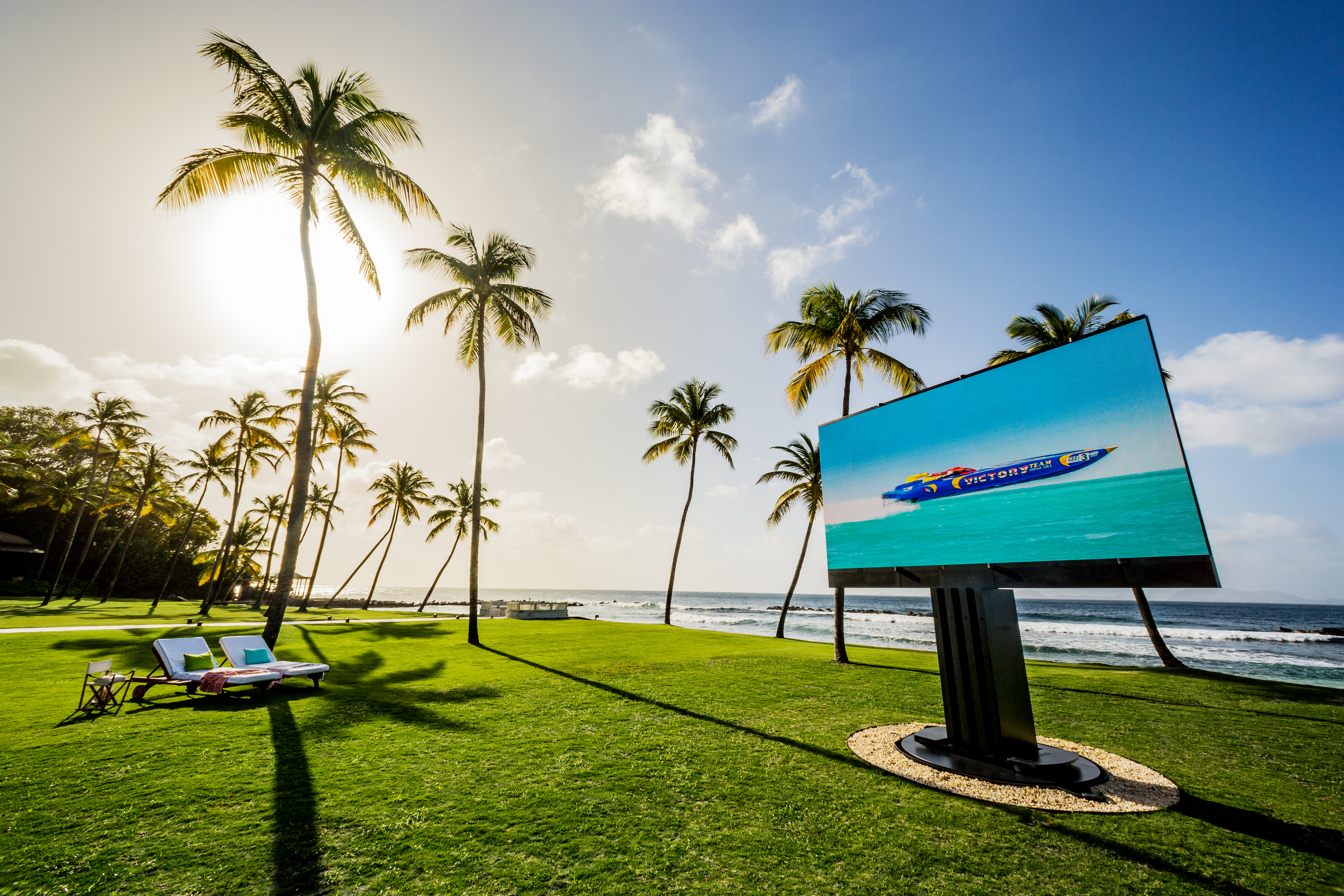 The C SEED 201 outdoor tv screen wraps ultra-powerful technology into rigorously streamlined design aesthetics created by Porsche Design Studio. Simplicity of form, quality, durable high-grade materials and impeccable workmanship are combined in an austerely imposing installation. The C SEED 201 outdoor tv screen is hidden in its underground storage casing, waiting for activation by a simple push of a button on the remote control. The C SEED 201 column takes 15 seconds to achieve its full height of 4.65 m (15 ft.) with effortless ease. Seven massive LED panels unfold equally soundlessly within the next 25 seconds.
C SEED HLR TV 144 and 201 HLR TV systems are designed for all those out there who dream to have the maximum efficiency of their luxurious spaces. Either while relaxing on your roof top or enjoying a glamorous pool party, you can fully rely that HLR models will deliver an outstanding audio visual experience and performance, no matter how unique your requirements may be. To make this happen, our technical department made another additional step forward - HLR TV´s are now featuring a compact and shallow compartment box of only 85 cm (33.4 inch), powered by state-of-the-art horizontal lifting mechanism.
The 144 or 201 inch TV screen will burst into action with revolutionary pixel power for ultra-high resolution images - its exceptional luminosity of 4,000 nits together with refresh rate 3,840 Hz and 16 bit per color processing depth produces a crystal clear picture even in glaring daylight conditions. No other technology generates such an extraordinary color spectrum with similar precision and reliability.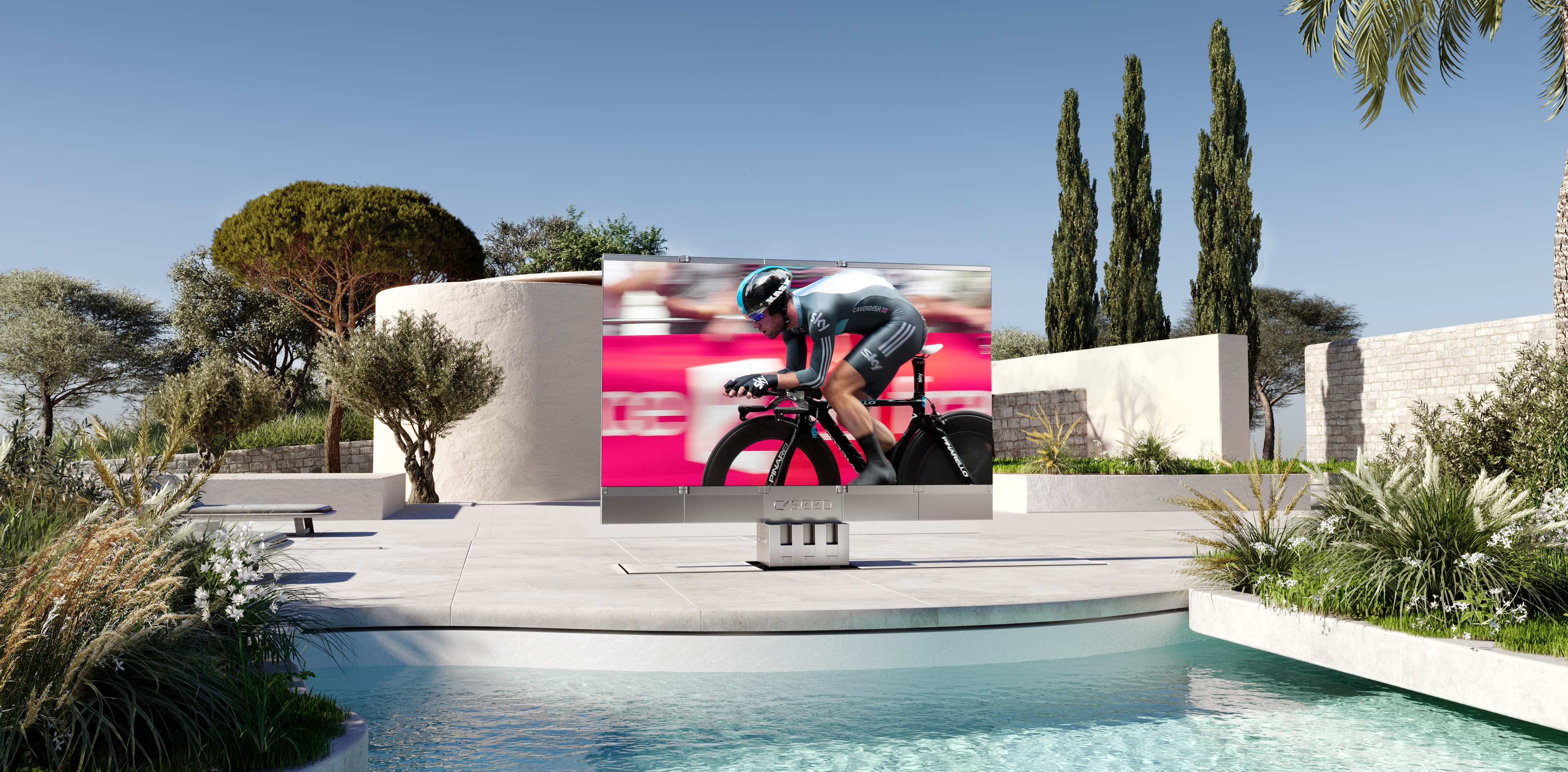 Rescaling this concept for indoor applications, C SEED blazes the trail for interior design: Unclutter walls. Add a spectacular feature to luxury homes and inimitable business locations. Enjoy latest screen technology, wrapped into the most exciting design possible. The C SEED M1. Redefining different.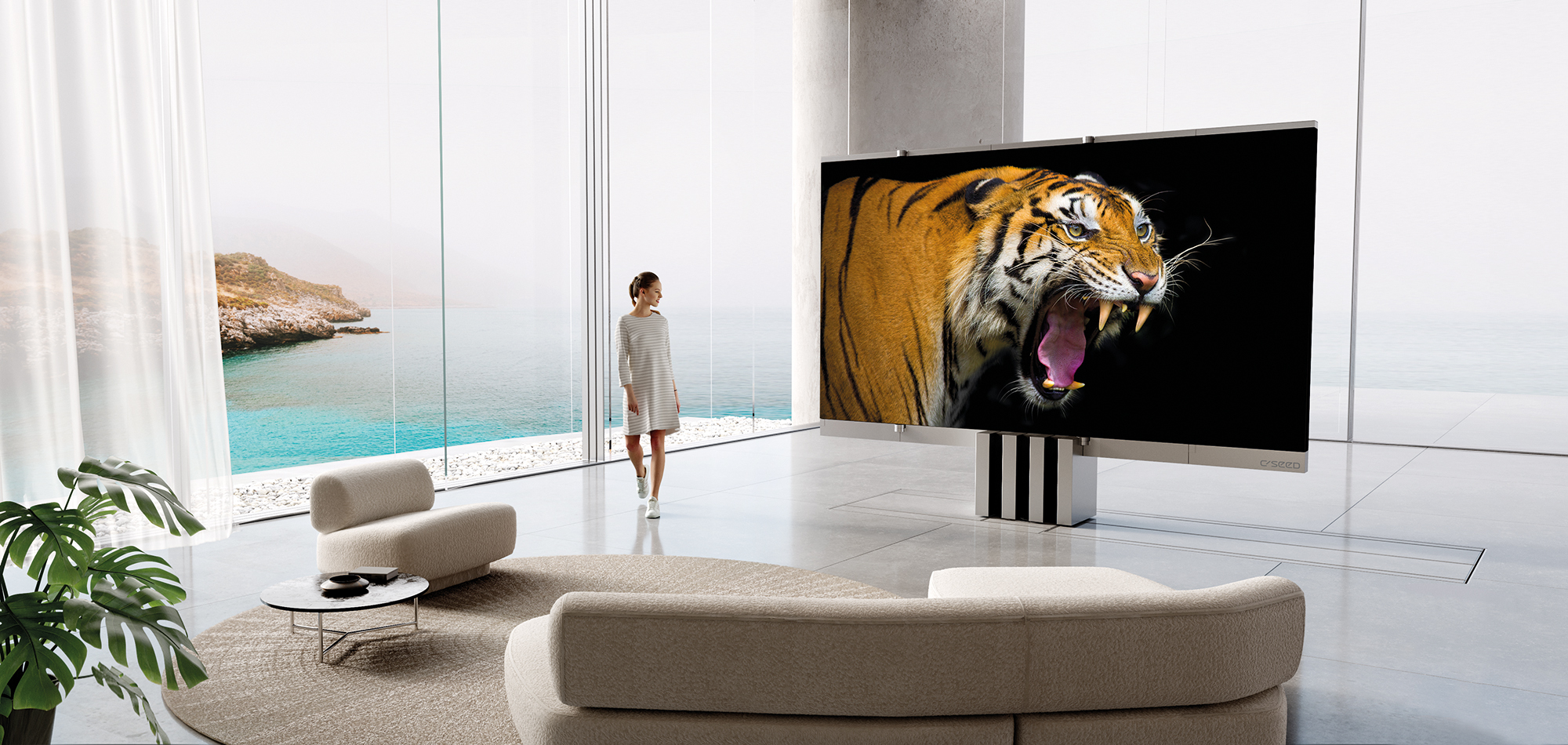 At the touch of a smart phone or tablet screen button, the powerful C SEED Hyde 125 loudspeakers rise out of the ground, providing superior sound to round off perfect days, complement beautiful surroundings and entertain guests at garden parties. With best sound quality, the weatherproof C SEED Hyde 125 loudspeakers are the last word in open-air sound brilliance and sound quality - a system of passive speakers for configurations ranging from 2.0 stereo to 9.1 surround. L-Acoustics passive speaker technology reproduces the entire frequency range with amazing and powerful brilliance. Each speaker projects a 110 degree beam angle, enabling the system to cover even large scale terraces while providing a thoroughly solid, stable sound experience.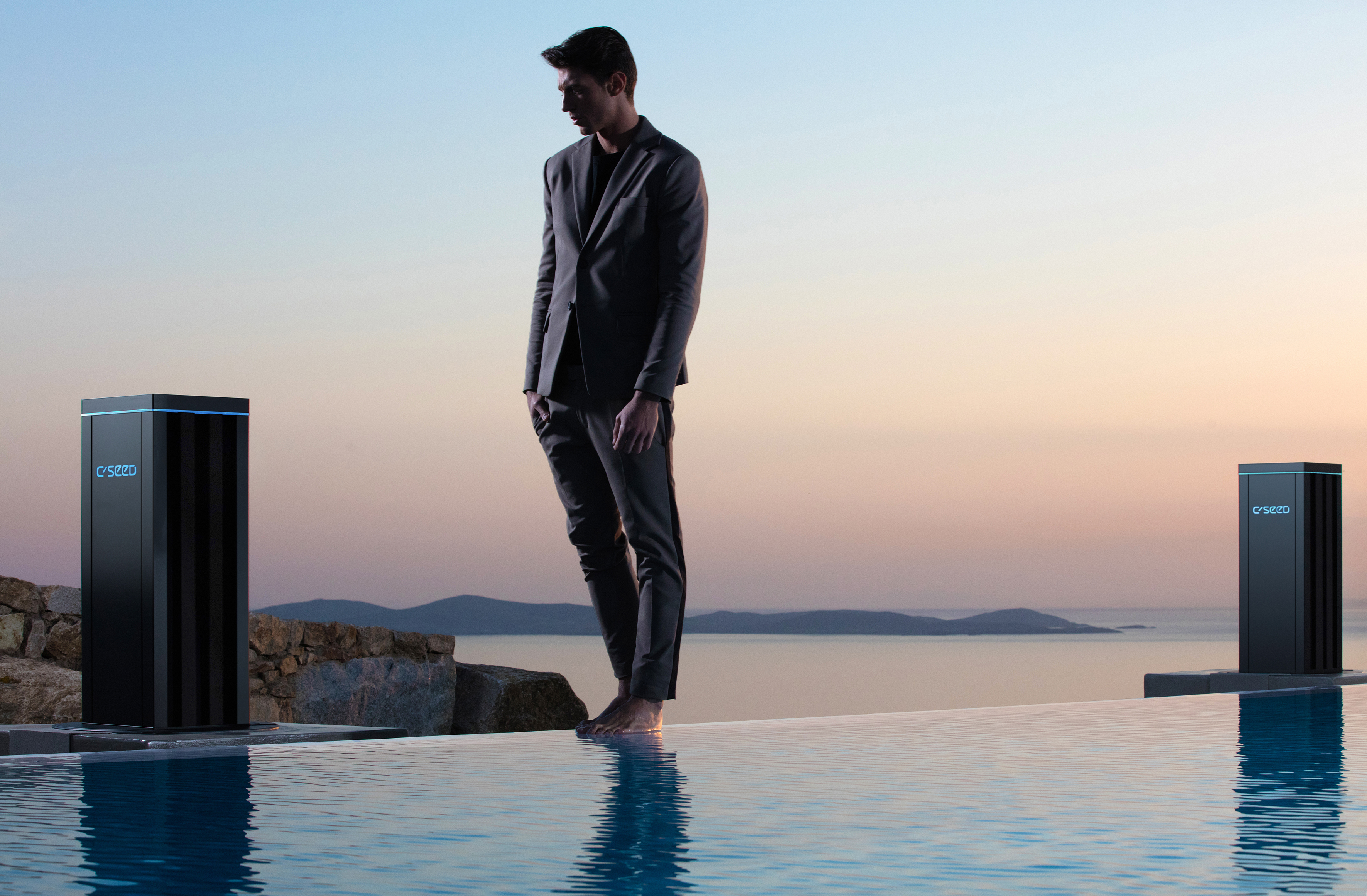 The single most spectacular engineering achievement of the C SEED Supermarine TV is its unique hydraulic drive system: A wildly sophisticated combination of vertical and horizontal drives retracts the huge 201 inch screen into a shallow compartment of only 78cm (31 inch) depth, saving valuable space on and below decks. Still, the new C SEED Supermarine TV screen takes only 30 seconds to rise to its impressive height of 3m (9.8 ft.) with effortless ease. Massive LED panels unfold silently within the next 45 seconds, presenting an outdoor tv screen of overwhelming brilliance on top of an elegantly dominating, almost sculptural masterpiece of technology and design to bring giant entertainment to fascinated viewers on their luxury superyacht.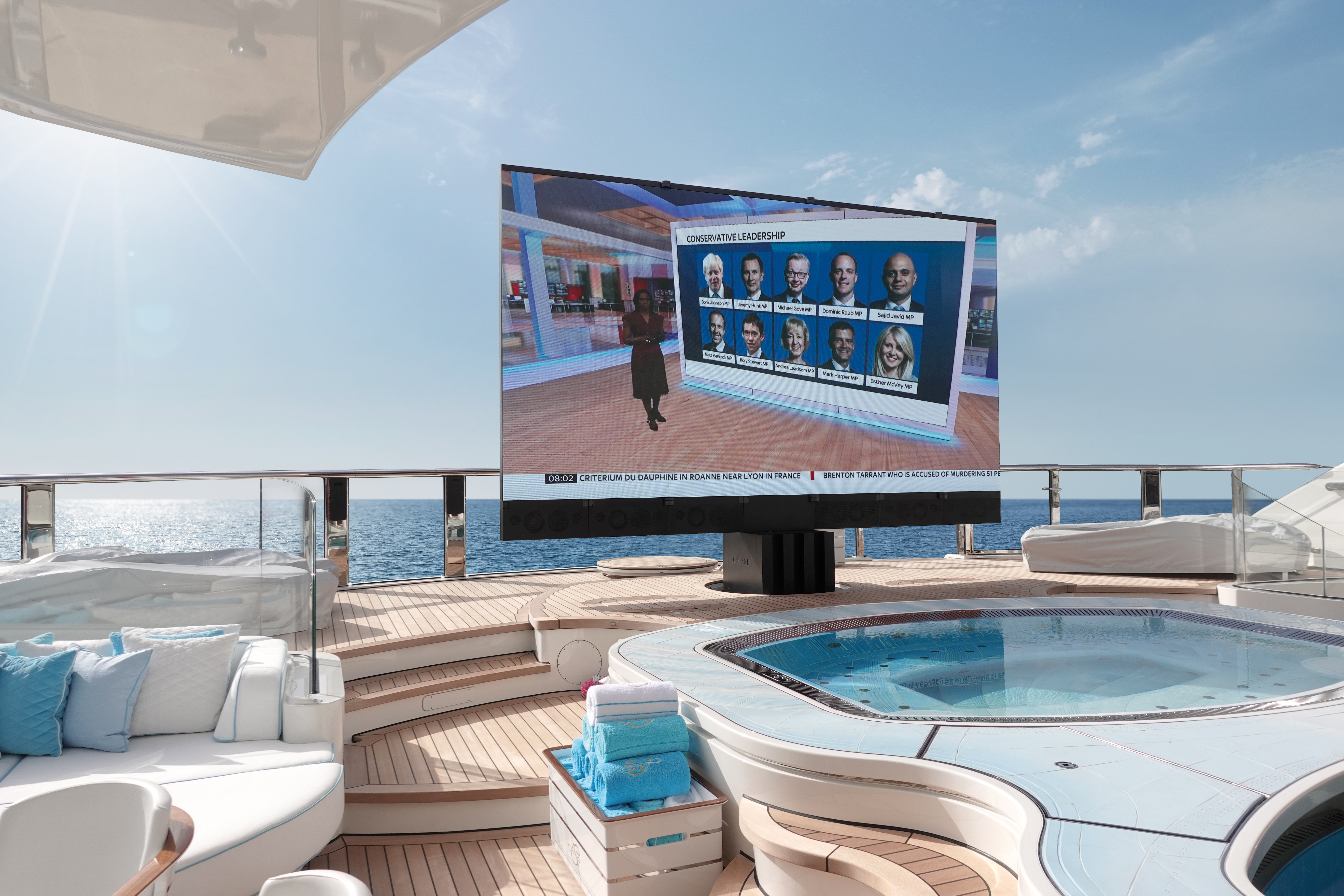 C SEED Entertainment Systems matches minimalistic design with impeccable craftsmanship to create leading-edge luxury electronics and a new entertainment experience. This award-winning company was founded in 2009 by Alexander Swatek together with Jakob Odgaard and Jorn Sterup, two former Bang & Olufsen managers. It is headquartered in Vienna, Austria, with a showroom and branch office in Beverly Hills, California.